Yellowstone Snowmobile Rentals
There are many snowmobile rental operators around the Yellowstone area. Most are located in West Yellowstone and Jackson Hole. Winter is a special time to visit Yellowstone National Park and each year more visitors are discovering it's winter beauty by snowmobile.
Snowmobile Yellowstone National Park
---
Yellowstone in winter is a special experience. Most winter visitors currently prefer to travel by snowmobile. The snowmobile offers more mobility to the most popular attractions. To make your winter trip more enjoyable, please plan ahead. During inclement weather, there will be overcrowding at the warming huts, restrooms and restaurants due to the limited winter facilities. You can ease the pressure by using the many services that are offered in the gateway communities. Please use our Tours Directory to plan your winter vacation and be aware of road closures.
GUIDED SNOWMOBILE TOURS
Roundtrip tours are available. A guide will help you explore features along the way. See our Snowmobile Rental Operators.
Winter Services
---
Snowmobile Fuel is available at Old Faithful, Canyon, Fishing Bridge, and Mammoth Hot Springs.
Restaurants are available at the Old Faithful Snow Lodge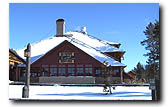 and Mammoth Hot Springs Hotel Dining Room. Dinner reservations are required.
Fast Food is available at the Old Faithful Snow Lodge - Geyser Grill and at the Canyon and Madison warming huts.
Lunch Counter & Groceries are available at Hamilton's Store at Mammoth Hot Springs.
Restrooms - Heated restroom facilities are located at Mammoth Hot Springs campground, Mammoth Visitor Center, Old Faithful Visitor Center, Madison warming hut, and Canyon warming hut. Vault toilets are found at other locations throughout the park.
Camping - The only campground open in winter is located at Mammoth Hot Springs. A backcountry permit is required for camping at any other location, including the winter camping area at Old Faithful. Permits may be obtained at ranger stations open in winter.
Snowmobile Rentals & Tours - Depart from Mammoth Hot Springs Hotel, Old Faithful Snow Lodge, and nearby communities.
---
---
---
Snowmobiling is one way to discover Yellowstone's winter wonders, Snowmobile regulations are designed to protect park resources and you, and they are strictly enforced.
. Snowmobile operators must have a valid state motor vehicle driver's license in possession (see article below).
. Drive on the right side of the road
and in single file. When stopping, pull
to the far right and park in single file. Stay to the right even if the roads are rough.
. Maximum speed limit is 45 mph (73 kph) or less where posted or as conditions warrant. Obey all speed limits and stop signs.
. Snowmobiles may be driven on designated roads only. Sidehilling is prohibited and carries a fine of up to $5,000. Stay on roads to avoid injuring yourself, damaging your machine, or banning the environment.
. Operating a snowmobile while intoxicated is illegal. Possession of open containers of alcoholic beverages, including bota bags, is illegal while operating a snowmobile or riding as a passenger.
. Wildlife have the right of way! Chasing, molesting, approaching, or feeding any animal is prohibited.
. Snowmobiles must be registered according to applicable state law.
. Snowmobile exhaust and muffler systems must be in good working order. The maximum noise allowed is 78 decibels. Snowmobiles exceeding the decibel standard will be denied entry into the park.