Yellowstone National Park Information and Trip Planner
National Parks are worth a visit. It is our countries legacy. There's no better way to bond with the family and enjoy the great outdoors. Most National Parks have something unique to become a designated National Park. Yellowstone is beyond special, it is the world's first national park. It is over 2.2 million acres packed inside an ancient caldera. Geysers, waterfalls, wildlife and scenic beauty. All these wonders are at every turn. This guide will help you plan your Yellowstone trip to be more efficient with less stress so that you'll hopefully have a satisfying vacation/trip. Nothing is worse than unexpected complications while on vacation. For those that prefer to wing it, you're probably not reading this or just looking for reservations, in that case have a great journey and go for it.
Let's begin, you probably know about Yellowstone whether from TV, books, the internet or a combination of these and now it's time to get serious and actually plan your trip. As we previously mentioned, there's a lot to see so grab a notebook, laptop or Smartphone.... something to take notes. There are a lot of attractions you don't want to miss.
- Next obtain maps either paper and/or digital. You don't want to get lost in Yellowstone. There are 5 entrances/exits to Yellowstone with 5 gateway communities. This makes it convenient to either stay in or out of the park and/or use another exit on your way home.
- Purchase a Yellowstone DVD. We recommend, "The Wonders of Yellowstone DVD " but there are a few others that are also informative. We feel a Yellowstone dvd is more effective than Youtube or a website. It's great chance to get the family all in one spot, nuke some popcorn then plan and enjoy your next vacation together. The DVD is a crash course on everything Yellowstone. Things you must see (all the highlights) and things to avoid with the amount of time you have available. Being flexible allows you to spend more time in a certain part of the park more than others. The DVD will show you those areas. This is where your note device becomes practicable. While watching the DVD, take notes on everything mentioned is this planner and your trip will become much more pleasurable and efficient.
- Be aware of road construction delays during the spring/summer/fall months. Road construction can take hours out of your day. Be prepared to travel around these delays and still get to your destination.
- For those families and people that must have contact to the outside world, you're still in luck. Yellowstone National Park does have cell service, just not everywhere. Cell service is currently limited to areas of Canyon, Grant Village, Mammoth Hot Springs, and Old Faithful. Wi-Fi is prohibited in the Old Faithful Inn and the Lake Hotel in order to preserve the historic lodging experience. Xanterra will be permitted to offer Wi-Fi service in other park lodging and general stores. Yellowstone's planning is to actively promote the courteous and respectful use of cell phones and Wi-Fi devices and to establish and sign "cell phone free zones" in the park.
-Gas is available at all the gateway communities. Gas stations in the park are located at Mammoth Hot Springs, Canyon Village, Grants Village, Fishing Bridge and Old Faithful.
-Only two park roads are plowed in the winter and remain open for wheeled-vehicle use:
The road between the North Entrance at Gardiner, Montana, to the Northeast Entrance at Silver Gate and Cooke City, Montana.
From Mammoth Hot Springs to the parking area at the Upper Terraces (approximately 1/2 mi. of road)
They are maintained only during daylight hours and may close during severe storms. Expect snowpack, ice, frost heaves, drifts. Mud/Snow tires or tire chains may be required and are recommended always. Speed limit for all vehicles is 45 mph (73 kph), or lower where posted—such as from North Entrance to Mammoth. Do not stop on the road or block traffic when viewing wildlife or scenery. Use pullouts. Trails and overlooks may be snow-covered, icy, and dangerous. Obey all trail closures. Walk cautiously at all times and watch your children
* For more information from the Official Yellowstone National Park Trip Planner visit our site: http://yellowstonenationalpark.com/planner.htm
---
Yellowstone National Park - 2013 Supplemental Winter Use Plan EIS
On August 21, 2013, the National Park Service (NPS) Intermountain Regional Director approved the Record of Decision (ROD) for the Yellowstone National Park (Park) Winter Use Plan/Supplemental Environmental Impact Statement (Plan/SEIS).

Approval of the ROD officially completes the Plan/SEIS process, which was conducted in accordance with the requirements of the National Environmental Policy Act of 1969 and included extensive public involvement, including a number of opportunities for the public to submit comments on the Plan/SEIS. The ROD implements most elements of the preferred alternative (Alternative 4) identified in the Plan/SEIS. You can download a copy of the ROD by clicking on the "Document List" link on the left side of this page, and then on the "Record of Decision for the Winter Use Plan/Supplemental EIS" link.

The NPS released the final Plan/SEIS on February 22, 2013. The Plan/SEIS analyzes a no-action alternative and three action alternatives that present different ways visitors could experience the Park in winter, while protecting the Park's resources and values.

Under Alternative 1, the no-action alternative, no snowmobiles or snowcoaches (collectively, oversnow vehicles, or OSVs) would be allowed in the Park. Alternative 2 would allow OSV use at the same levels (318 snowmobiles and 78 snowcoaches per day) and with the same restrictions that have been in place during the past four winter seasons under interim regulations. Alternative 3 would transition to snowcoaches only over a three year period beginning in the 2017/2018 winter season.

The NPS Selected Alternative is Alternative 4. Under this alternative, the Park will manage oversnow vehicles based on their overall impacts to air quality, soundscapes, wildlife and visitors, rather than focusing on the number of snowmobiles and snowcoaches allowed in the park each day. The Park will allow up to 110 "transportation events" a day, initially defined as either one snowcoach or on average a group of seven snowmobiles. No more than 50 transportation events a day will be allocated for groups of snowmobiles.

The Selected Alternative will provide for one entry a day per entrance for a non-commercially guided group of up to five snowmobiles and will continue to allow for motorized oversnow travel on the East Entrance road over Sylvan Pass. The winter of 2013/2014 will be a transition year, during which the park will allow motorized oversnow travel under the same conditions in place for the past four winters: up to 318 commercially guided Best Available Technology snowmobiles and up to 78 commercially guided snowcoaches daily.

To download a copy of the Plan/SEIS, click on the "Document List" link on the left of this page, and then on the "Final Winter Use Plan/Supplemental EIS" link. You can request a printed copy of the Plan/SEIS by contacting the National Park Service, Management Assistant's Office, P.O. Box 168, Yellowstone National Park, WY 82190.

Because the OSV use will be allowed in the park, a regulation must be promulgated before the decision can be implemented. A final regulation is expected to be published in the Federal Register no later than December 15, 2013, in order to allow the park to open for the 2013/2014 winter season.

For more information
---
Yellowstone Winter Season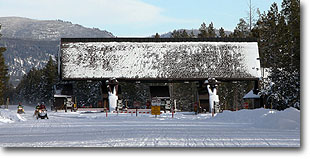 Yellowstone National Park will open to the public for the winter season as scheduled on December 15. Beginning at 7:00 a.m. Saturday morning, visitors will be able to travel to the park's interior roads on commercially guided snowmobiles or snowcoaches from the North, West and South Entrances. Travel through the park's East Entrance over Sylvan Pass is scheduled to begin December 22.

The road from the park's North Entrance at Gardiner, Montana through Mammoth Hot Springs and on to Cooke City, Montana, outside the park's Northeast Entrance is open to wheeled vehicle travel all year. At Old Faithful, the Geyser Grill, the Bear Den Gift Shop, and the Old Faithful Visitor Education Center open for the season on December 15. The Old Faithful Snow Lodge and Cabins and the Obsidian Dining Room open on December 18.
The Mammoth Hot Springs Hotel, dining room and gift shop will open for the season on December 20. The Yellowstone General Store, the medical clinic, campground, post office and the Albright Visitor Center at Mammoth Hot Springs are open all year, as are the 24-hour gasoline pumps at Mammoth Hot Springs and Tower Junction.
Park staff members will continue to closely monitor road conditions and weather forecasts that can have an impact on roadways and guided oversnow travel operations. Weather during the winter season is extremely unpredictable in Yellowstone and road closures or delays can occur with little or no warning. Visitors are reminded to come prepared by carrying personal emergency survival equipment in their vehicles and dressing appropriately for outside activities in extremely cold weather.
All the administrative steps have been completed in order for the 2012-2013 winter season to open as scheduled on Saturday. Winter Use in Yellowstone this season is being managed under an operating plan much in the same manner as has been permitted the last three winters. Under the rule, up to 318 commercially guided, Best Available Technology (BAT) snowmobiles and up to 78 commercially guided snowcoaches will be allowed into the park each day.
In early 2013, the National Park Service intends to issue a Final Supplemental Environmental Impact Statement (SEIS) and a proposed rule to guide long-term winter use in Yellowstone, which will take effect in time for the 2013-2014 winter season. - NPS Release
Yellowstone National Park Fees
- Entrance Fee for a private, noncommercial vehicle - $25
- Snowmobile or motorcycle each - $20
- Visitor 16 and older entering by bike, foot, ski, etc - $12

This fee provides the visitor with a 7-day entrance permit for both Yellowstone and Grand Teton National Parks. Please, keep your admission receipt in order to re-enter the parks. Snowmobile operators must possess a valid motor vehicle operator's license. Annual or Lifetime Passes are possible alternatives to the above fees.
Park Annual Pass
The $50 park annual pass provides entrance to pass holder and accompanying passengers in a single private non-commercial vehicle at Yellowstone and Grand Teton National Parks. Pass is valid for 12 months from date of purchase. Purchase your pass at one of the park's entrances.
The $10 Interagency Senior Pass (62 and older) is a lifetime pass available to U.S. citizens or permanent residents. Pass is available only in-person at entrances or visitor centers.
Yellowstone Lodging and Campsite Reservations
Xanterra Parks & Resorts - (866) 439-7375
* There are many campsites available on a first come basis operated by the Park Service.
Check our Camping Directory for more information.

Gateway Communites Chamber of Commerce
West Yellowstone, Mt - (406) 646-7971
Cody, Wy - (307) 587-2297
Jackson, Wy - (307) 733-3316
Cooke City/Silver Gate, Mt - (406) 838-2495
Gardiner, Mt - (406) 848-7971
Other options for air travel convenience
Bozeman, Mt - (406) 586-5421
Idaho Falls, Id - (208) 523-1010

---
"The Wonders of Yellowstone"
- 98 Minutes -
~Telly Award Winner for Nature and Wildlife~

Two years in the making and just released, "The Wonders of Yellowstone" video has been highly requested, produced in DVD format and is now available. Take a complete tour of Yellowstone National Park as our Narrator Cathy Coan guides you to all the wonders of the park including all the geyser basins, wildlife, waterfalls, camping, maps and much more.


"The Perfect Video Trip Planner"
---

--------------------------------------------------------------------------------


"The Wildlife of Yellowstone"
- 94 Minutes -

The Wildlife of Yellowstone DVD presents to you the most popular and prominent wildlife inhabiting Yellowstone National Park. This dvd, taped in digital format, has the highest quality scenes of grizzlies, black bears, moose, wolves, otters, owls, fox and much more including their young. Inside this dvd you will find

· 94 Minutes on the Wildlife of Yellowstone.
· Three Chapters : Large Mammals, Small Mammals and Birds
· Narrated by Yellowstone Tour Owner and Specialist - Ken Sinay
· Where, When and How to Spot the Wildlife of Yellowstone


--------------------------------------------------------------------------------