Horse Butte
The Horse Butte trail is an excellent ride for novice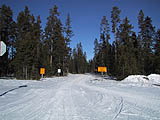 snowmobilers and is about a twenty mile loop that takes you along the northern edge of the Madison Arm and Horse Butte on Hebgen Lake. Hebgen Lake is considered by fly fisherman to be the finest dry fly fishing lake in North America and during the winter ice fisherman love to spend the winter filling their freezers.
This is a great tour to consider to get away from the crowds and enjoy the smooth ride after a day of riding in the park. This trail is also a good choice if the weather prohibits you from going to the higher more popular destinations. This ride gives you the complete view of Hebgen Lake, Lionhead and Twotop Mountain. Be sure to avoid riding on or near thin ice. Even though sleds can be recovered, you won't.
At the top of Horse Butte is a firetower maintained by the forest service during the summer. One note of caution, if there is high winds or wind drifts as your heading up Horse butte, do not go further, turn around and head back and enjoy the rest of the loop back along Cougar Creek.