MADISON JUNCTION TO NORRIS GEYSER BASIN (about 14 miles)
The road gently climbs the inside of caldera rim and follows


the Gibbon River to Gibbon Falls (the falls actually fall over the Yellowstone Caldera), then through the Gibbon Canyon to Gibbon Meadows, Elk meadows, and finally Norris Junction. Along the way you may see Beryl Spring (because of its blue-green gemstone color), Elk and Bison, Coyotes, Eagles, Ravens, Geese, Ducks, and occasionally other birds or mammals. A short hike from the road are the Artist's Paint Pots.
Restroom are located at Norris Geyser Basin.
NORRIS GEYSER BASIN
Contains two distinct basins of different character: the Back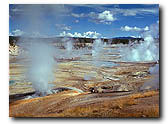 Basin & Porcelain Basin. WARNING: These basins are the hottest and most geologically active geyser basins in Yellowstone and are constantly changing. The attractions in the Back Basin include: Steamboat Geyser (world's tallest active geyser with eruptions from 300 to 400 feet but very unpredictable), Echinus Geyser (erupting at near regular intervals of 30-60 minutes, for up to one hour, and heights to 60 feet,) Echinus Geyser received its name because of the pebbles in the basin are reminiscent of tiny sea urchins. Minute geyser, Green Dragon Spring (with boiling green water in a sulfur-lined cave,) Porkchop Geyser (currently a boiling hot spring, but with a history of explosive eruptions.)
The Porcelain Basin Self Guiding Trail is a .75 mile round trip trail. The attractions in the Porcelain Basin include: Porcelain Springs, Whirligig Geysers, Ledge Geyser, Blue Geyser, Black Growler, and many hot springs that are acidic and arsenic rich. The various colors that are found in, and around the edges of the hot springs are the result of the minerals such as iron and arsenic combining in a myriad of compounds. Additionally the lime-green Cyanidium algae thrive in this environment along with cyanobacteria that is orange and brown.
Artists Paint Pots is a 1 mile round trip hike which include mudpots, steam vents and small geysers. Be sure to visit the two mudpots at the top of the hill which provide one of the best close-up views in Yellowstone.
---
NORRIS JUNCTION TO MAMMOTH HOT SPRINGS (about 21 miles):
Just north of the meadows at Norris junction the road climbs the divide between the Gibbon River drainage and the headwaters of the Gardner River. Five or six miles into this journey the visitor finds Roaring Mountain. This steaming mountain side occasional draws small groups of elk and bison because of its warmth. The rest of the journey is a gentle descent toward the upper terraces of Mammoth Hot Springs where over-the-snow travel ends. The upper terraces are available to the winter visitor. The lower terraces are available to conventional vehicular travel.