---
Lionhead Mountain
The Lionhead trail is unique. It is one of the shortest trips at just over 16 miles. It is one of the steepest trails (to the top of Lionhead). It is one of the most scenic of all the tours with vistas from the Tetons to Yellowstone National Park. It is also the most popular along with Two Top. The trail is maintained at least twice a week and is a favorite from locals to visiting "locals".
The trail begins from West Yellowstone and is well marked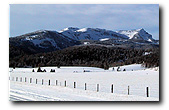 as you travel along the two top trail you might wish to
visit some of the side trails or stop at Black Sands. Continue on until you reach the seven mile mark where you must decide between the Mt Two Top or Lionhead, in any case you will be on top of the Continental Divide and feeling great. As you head up the switchbacks you will eventually see Lionhead Mountain. The trail up to the top of Lionhead Mountain is steep and not recommended for the inexperienced rider, there is no room for changing your mind once you commit. The good news is there's plenty of room at the base of the mountain to have some fun before heading back.
On your way back, keep in mind you're on a very popular trail system. Maintain the speed limit and watch out for the so-called experienced rider who ends up in your lane.
An additional word of caution. Be sure to stay on the trails to avoid any chance of avalanche danger. This is not a ski resort with ski patromen at your side.This is wild country where grizzly bears den, where the powder is deep, avalanches are common and snowmobilers get lost. Avoid an embarrasing situation, enjoy your vacation and stay alive.