---
The Big Sky Trail
The Big Sky Trail is a favorite among locals and visiting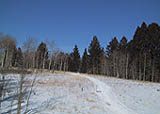 veteran snowmobilers. The trail is not as often groomed as
the other trails, however this is not a deterent to the powder mongers. The trail begins from West Yellowstone and heads due north along the western boundary of Yellowstone National Park. The trail is usually well groomed at least once a week. From West Yellowstone, there is seventeen miles of groomed trail followed by thirteen miles of 'at your own risk trail" until it reaches the groomed area of Sunlight Basin heading towards Big Sky.
A little over 9 miles, the trail crosses the highway and heads northwest. About thirteen miles in, from the highway, the area opens up into the cabin and tepee creek area. Here you'll find open bowls, deep powder, happy snowmobilers and even a forest service cabin that can be rented out. Though the scenery can be breathtaking, you will seldom see wildlife due to the emmense powder and thick forest. A local favorite is upper tepee basin where you'll find the best bowls and deepest powder. This area also skirts along the boundary of the Lee Metcalf Wilderness which is out of bounds to any and all motorized vehicles. The upper tepee basin is not recommended for the novice or inexperienced rider. Every year riders are lost or "trapped" and must pay the consequences but if you must visit be sure to inquire with one of the locals in the area.
Most snowmobilers head back to West Yellowstone from here as the gas gauge becomes a factor. On your way back you may consider to fill up both on the fuel and the food at a local hangout, Enos Restaurant where you can cook your own before you head back to West